NO LIGHTHOUSE TOURS UNTIL AT LEAST JULY 2021! Due to the Executive order issued by Governor Cooper on Saturday 3/14/20 stating that all public venues be canceled until further notice, the Town of Caswell Beach and the Friends of Oak Island Lighthouse will comply and have suspended all tours as of Monday 3/16/20. Due to the close proximity of visitors climbing the tower and circling our small outside balcony during our tours and current social distancing and sanitation requirements, it is not possible for FOIL to safely conduct tours of the inside of the Lighthouse. As a result, we will not be accepting any reservations for tours until at least the end of JUNE 2021. This opening will be dependent on the status of the COVID-19 pandemic, the vaccination of the Lighthouse Volunteer Staff and the relaxing of the social distancing restrictions. At that time, the FOIL board will determine if we can safely reopen for visitors and ensure the protection of our volunteer staff. Please check this web site for the latest information on the status of tours.
The Lighthouse parking lots, walkway and grounds will be open sunrise to sunset, seven days a week for visitor access and picture taking with the requirement that everyone please practice social distancing and masks would be appreciated. Thank you for your understanding during this difficult time. Our primary concern is for the safety of our visitors and our Lighthouse Volunteers.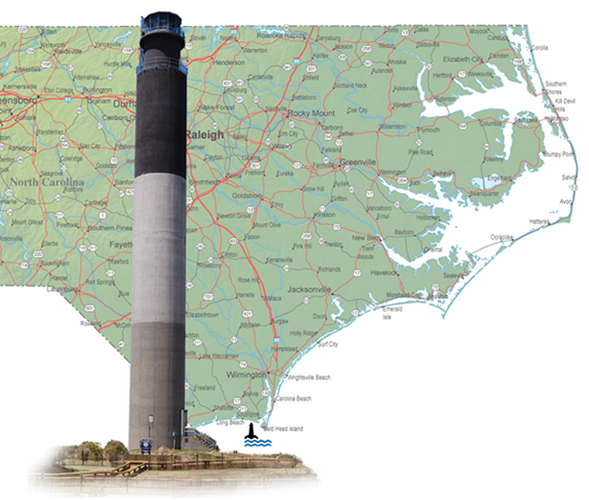 For any questions please contact us at: oakislandlighthouse@gmail.com
FOIL is a nonprofit corporation and 501(c)(3) for tax purposes. FOIL is registered with the N.C. Secretary of State for 2020/21 as being allowed to collect contributions. EIN# 20-2548830
Financial information about this organization and a copy of its license exemption are available from the State Solicitation Licensing Branch at 919-814-5400. The license/exemption is not an endorsement by the State.