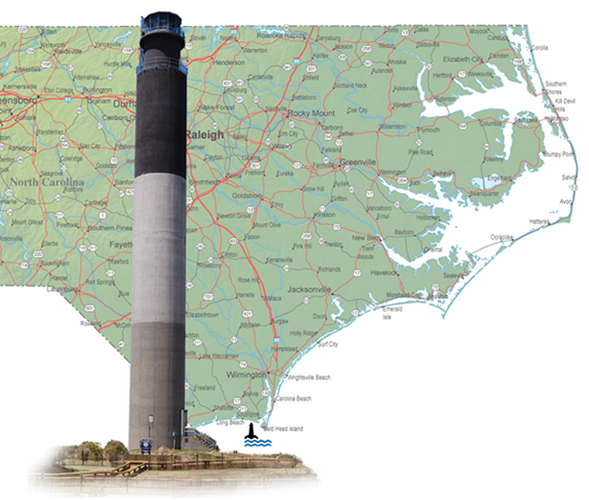 "Keeping Our Light Strong" –

MUST Donate by 9/30/17 to be included on our recognition sign!
The Friends of Oak Island Lighthouse (FOIL) would like to announce our "Keeping Our Light Strong" campaign and ask for your support. Many of you are familiar with FOIL, the 501(c)(3) nonprofit the Town of Caswell Beach created when the lighthouse was acquired as part of the Federal "Land to Parks" program in 2004. FOIL was tasked with managing the lighthouse, including raising funds for the maintenance of the structure so the Lighthouse would not become a burden to taxpayers. FOIL is an all-volunteer organization with no paid staff and operates without Federal, State, or Town funding. FOIL is responsible for the maintenance and public access of this historic landmark, so that it may be enjoyed by our residents and visitors alike. In keeping with this mandate, FOIL has contracted with International Chimney Corporation (yes, the same company that moved the Hatteras lighthouse and has done work on over 30 other east coast lights) to perform significant maintenance that will allow our light to burn bright for generations to come. This maintenance was completed in early 2017.
Built in 1957 the light was lit the first time in May 1958. During the past ~60 years wind, sand and salt have aged our landmark, and according to structural engineering studies, now needs some tender loving care. We have repaired three cracks that run from the base to the top of the tower, rusting railing brackets and deteriorating stair supports. The cost of these repairs, which we hope to raise through our "Keeping Our Light Strong" campaign, is just under $100,000.
Many of you have experienced the climb to the top and the beautiful views that a walk around the outside balcony provides. Each year since 2005, we have conducted tours of the lighthouse, with the first years allowing a few hundred climbers to ascend to the top. Every year, we have more and more requests for our tours and last year FOIL tour guides assisted over 3,500 people in achieving their dream of climbing to the top. In addition, visitors stop by every day to walk the grounds and take photos of this unique beacon that guards the entrance to the Cape Fear River and warns ships of the dangerous shifting sands of Frying Pan Shoals. We all take great pride in our town and lighthouse; with your assistance, FOIL can ensure that this legacy continues.
FOIL is asking all lighthouse enthusiasts, residents, visitors, local businesses and civic organizations to help in our efforts to keep our light strong by making a tax deductible donation. A donation check can be made to FOIL and mailed to FOIL, 1100 Caswell Beach RD, Caswell Beach 28465. We will recognize our significant donors (if you so wish) on a sign to be prominently displayed in the main level of the lighthouse. There are three non-corporate recognized sponsorship levels for the "Lightkeepers Club" – Tower ($100-$249), Gallery ($250-$499) and Beacon ($500 and up). However, all donations no matter what amount are greatly appreciated.
If you have any questions or need additional information, email us at oakislandlighthouse@gmail.com.
We truly appreciate your support!
The Foil Board
http://www.oakislandlighthouse.org                        oakislandlighthouse@gmail.com
FOIL is a nonprofit corporation and 501(c)(3) for tax purposes. FOIL is registered with the N.C. Secretary of State for 2017/18 as being licensed to collect contributions. EIN# 20-2548830
Financial information about this organization and a copy of its license are available from the State Solicitation Licensing Branch at 919-814-5400. The license is not an endorsement by the State.