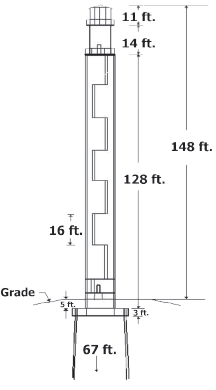 So you are wondering "Why all of the restrictions?"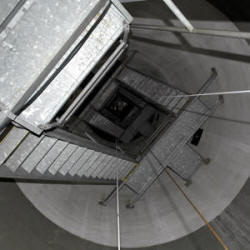 to climb to the top of the Oak Island Lighthouse.
To begin, no matter how many lighthouses you have climbed, you have never seen a tower as unique as this one!  As most lighthouses have spiral stairs to the top, we have what is called ships ladders (they are actually stairs – not straight up ladders!). We have a challenging series of steep ladders totaling 131 steps to the top!  There are a series of landings for resting on your way up with a window for viewing at each.  As if that wasn't enough of a challenge, a lot of visitors are also overwhelmed due to the fact that you can stand at the bottom and see straight up to the lights!  As you can see from the picture here, if you have a fear of heights, you may want to enjoy our pictures instead of climbing.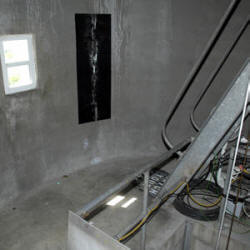 Please note, a lot can be seen from the 2nd level tour offered twice per week during the summer season only.  These tours only require that you climb one set of our ships ladders (12 steps) and the 2nd level has a solid concrete floor.  From the 2nd level you can see the colors used to pour the lighthouse and can look all of the way up the center of the tower to where the lights are turning.  The colors were mixed into the cement as the lighthouse was constructed and it will never need painted!  You can also see the supply winch that is used by maintenance personnel to get supplies up to work on the lights.
If you have any questions concerning tours, our tower, or just general information, please feel free to contact us!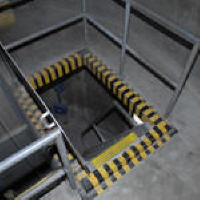 This is what your climb looks like as you begin